Buran Ghati Trek
Transport Included | Shimla To Shimla

₹14,650

Is Trek Fee |

₹

2100 For Transport (All Included In Trek Fee)
Do you enjoy adventure and want to feel the adrenaline pumping? The Buran Ghati trek is for you if so. This trek offers a complete experience of the mountains, forests, and grasslands. It will surely thrill you to your core. You will be greeted by a magnificent view of Dayara meadows with snowcapped mountains behind you. It will also surprise you to see such contrast campsites that are a delight for shutterbugs.
Buran Ghati, a well-known trek in the trekking world, has a multitude of amazing sites along the trail. You will be amazed at the variety of landscapes this trek has to offer. You will find the thicker and more dense forests of Oak and Pine quite artistic as you walk through them. You will be amazed at the beauty of the vast green meadows, sharp edges at high elevations, snow-covered peaks, small streams and brooks as well as the charming villages, among other sights. The Chandranahan lake, which is nestled at high altitudes, is one of the highlights of this trek. Many locals consider this lake sacred. It is breathtaking from both sides of Buran Pass. You can also take an acclimatization stroll nearby after spending time at the lake.
You'll see a lot of snow on this trail if you do it in June. This will make the whole trek look completely different. You may need assistance with the ropes on the last section of the pass. It is an uphill climb that you will need to push yourself. You will be awestruck by the Dhauladhar range, with remote peaks rising above one another to offer a glimpse of their views. From the summit of the pass, you can see a panoramic view of Kinner-Kailash peaks. Buran Ghati is a great trek for those looking for an exciting experience.
A Grand Buffet Of The Greatest Himalayan Treks
There are sections on every trek that are breathtakingly beautiful. We are not ashamed to admit that there are sections of every trek that aren't perfect. These imperfections can be hard to spot when you're on the Buranghati trek.
This trek is unbeatable. It's almost as if someone took the best bits of our Himalayan treks, and merged them into one flawless trek.
The trek begins at Janglik, an ancient village that is reminiscent of the Har Ki Dun trek. After climbing out of Janglik, the trail enters a beautiful forest before reaching Dayara meadows. Many trekkers stop here and stare in awe at Dayara meadows.
Dayara is a place where you expect the meadows to be over. Litham's trail is full of meadows and forests. There is also the Dunda. Dunda is the campsite that can offer you both the beauty of the alpine mountains and the thrill of a spectacular climb,
Barua is located on the opposite side of the pass and is an old charming village that will remind you of Lord of the Rings' Hobbiton. It is home to old houses, fruit bearing trees, and alleyways.
The Buran Ghati trek is a moderate trek that combines all the best aspects of a difficult trek with a thrilling pass crossing. The scenery changes are fast and the majority of days are moderate to easy. Buran Ghati is a great choice for an autumn or summer trek.
What You Will Love About Buran Ghati
1. Dayara Meadows
Dayara meadows is one of my favorite sections. I'm sure trekkers will agree. It is first seen from a high ledge, as you climb out of deep coniferous forests. You can see a vast expanse of table land that has been carved from the side of a mountain right in front.
One side is grassy and climbs up the mountain sides, while the other side drops down the cliffs into the canyons below. Between them is the large green stretch that horses can gallop.
It was unbelievable to me that we would camp in such beautiful settings. This was even on Day 1. Dayara meadows are my top pick when compared to meadows from other great treks.
2. Buran Ghati Wall and Snow Slides
The trek is very challenging and takes you up to 15,000ft. It is an incredible thrill to rappel down from the other side of Buran Ghati, and to reach the top of Buran Ghati.
Buran Ghati wall is now well-known. It must be the highest point of rappelling in the world! Buran Ghati is a wonderful adventure because you can slide down several snow chutes. This adventure is a must-see for trekkers. Buran Ghati is also high up on my adventure list.
3. Village of Janglik, Barua
It is amazing how we can get into the upper village and then slow down to observe the culture until we reach the foot of the village, nearly a thousand feet below! Pay attention to the architecture, the people, and especially the temple. There are many fruit trees.
4. Litham Campsite
Litham captivated me. This campsite was at the confluence between two valleys. Litham was a great place to sit and take in the views of both valleys. The Chandranahan snout's towering waterfalls are the best sight to be on your guard. Many people talk about the Rupin waterfalls, which can be found on the Rupin Pass hike. This one is just as spectacular.
5. Chandranahan Lake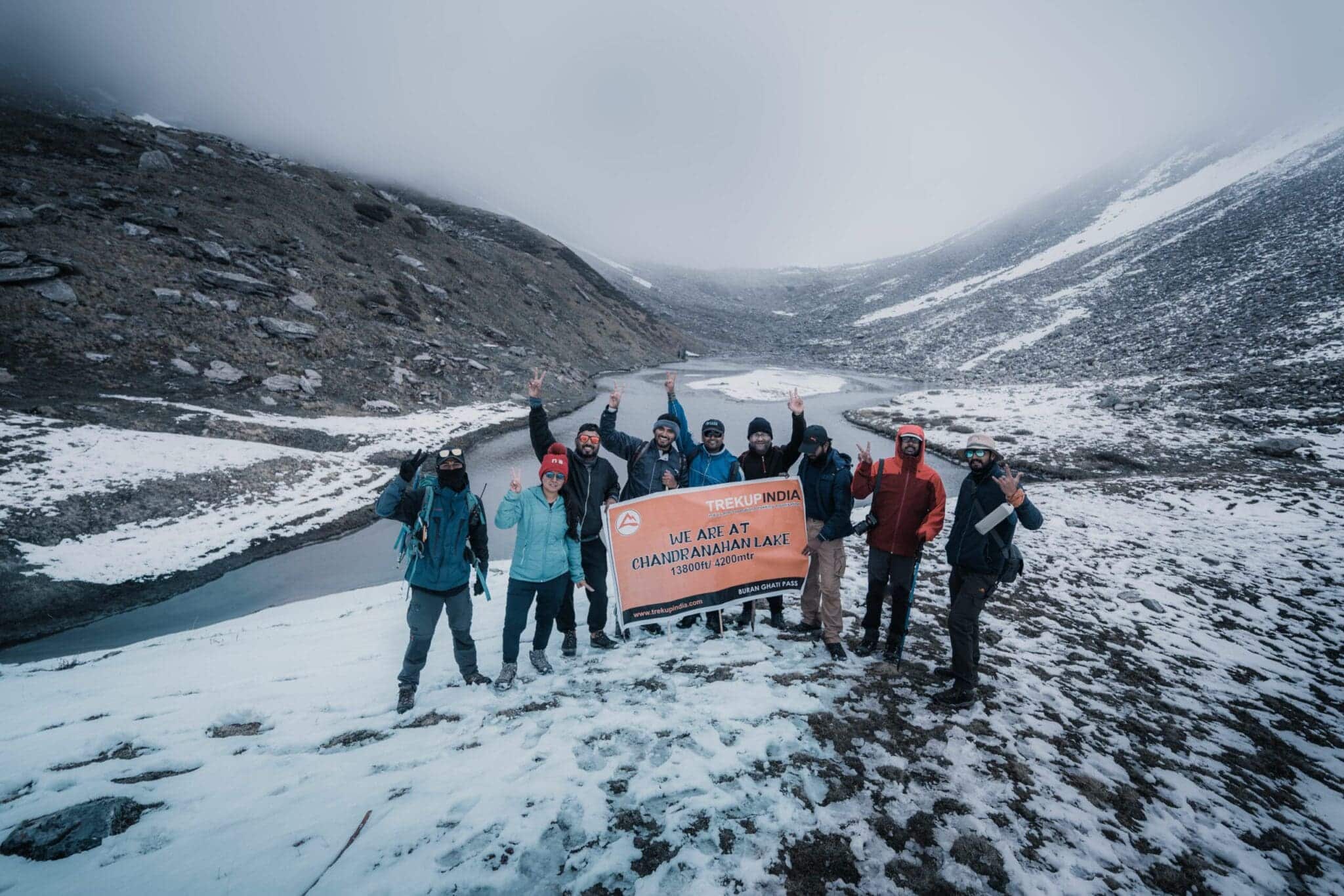 I believe the side trip to Chandranahan Lake is underrated. It felt more enjoyable than the Buran Ghati crossing. You will be transported to an alpine area once you reach the Chandranahan Falls' snout. This valley is narrow and snowy at high altitude.
All around you are snow-capped mountains. You can still see the Pabbar river. To reach the heart of the valley, you will need to cross beautiful ledges after another. For the visual delight, the journey and setting are still a part of my memories.
7. The Waterfall And The River Campsite
On the other hand, I loved the river campsite. We are still at an amazing height looking back at the Buran wall from the camp. Although we are in the greens, all around us are alpine environments. It's amazing to camp at such high altitudes.
Dhunda, another high camp, would be a great moment for trekkers. It is thrilling to look at Buran Ghati from a new perspective. The waterfall at the camp was what made me happy.
Day Wise Detailed Itinerary
Day 1 - Shimla to Janglik
Altitude:-2,800m/9 200ft
Driving Distance:- 160km, 9-11 Hours (Drive) Pick-up at Shimla Old Bus Stand at 6.30 AM
Transportation is included in cost Last ATM: Rohru
Phone Network: Rohru
Breakfast, lunch not included. Dinner included
Shimla-Rohru: 115 Km Rohru To Chirgaon: 15 Km Chirgaon To Tangnu; 20 Tonglu to Janglik : 10
Janglik, the base camp for Buran-Ghati trekking, is where you will begin your journey. The drive will take you from Shimla to Rohru, which is a scenic drive. You'll pass charming villages that have an instant charm from Himachal culture. You'll also see pine and oak forests along the way, which are artistic due to their sharp edges. On our way to Diude, we will have lunch. To get to Tonglu will take approximately two hours, as the motorable road at Tikri turns into a dirt track. Hot dinner will be served at the campsite/guesthouse after you reach Diude. You should also note that the last ATM point is located at Rohru. If you need to withdraw cash, make sure you go to the ATM. Rohru is also where you will find the network on the phone.
Day 02 - Janglik to Dayara Thatch
Altitude:- 3,400m/11.150ft
Trekking: – 4km, 5-6 Hours
Grade: Moderate ascent
Water sources are available along the route
On the way, you will pass a few shepherd's houses
Walk through pine, oak, deodar, and meadows
Hot lunch and snacks will be provided at the camp site
For better acclimatization, climb a hillock in the evening.
Stay in tents.
A bright view of the valley greets you as you wake up each morning. Before you set off, breakfast and tea will be served. This walk will take you past beautiful, hand-crafted wheat fields and wooden farmhouses. These charming wooden houses, with their beautiful roofs, will grab your attention. After climbing for about an hour, you will be able see the entire view of Diude and Tonglu as well as other small villages.
We'll then stop for some refreshments in the shade of pine trees. You will find the forest trail to be easy and relaxing. It will be amazing to see the beauty of the forest and small streams that have cooling effects on your senses. It takes time to take in the beauty of mother nature. Take your time and enjoy your surroundings.
The trees will start to fall away from the ground almost immediately, but you'll be greeted soon by the calm trees of Pine or Oak. They are thicker and more dense than the older ones. It looks like a carpet made of dried leaves that has been laid on the ground. The trail gradually climbs before it descends again. Tonight's camping spot will be in the Dayara meadows. We will climb the hillock nearby to aid in acclimatization. Your body must be properly acclimatized as you will be climbing higher altitudes. Dinner will be served at the campsite after you return from your acclimatization walk.
Day 03 - Dayara Thatch to Litham
Altitude:- 3,600m/11 800ft
Trekking: – 3km, 3-4 Hours
Grade:- Easy gradual ascent followed by descent
Water sources are available along the route
Explore dense forests, meadows, and brooks
Today, you'll see the Silver Birch (Bhoj), forest and Chandranahan falls
Views of snow-capped mountains in the Dhauladhar range
Hot lunch on the camp site.
After having breakfast at your campsite, you will begin your day exploring Dayara meadows. To soak up the freshness of the morning, you can go for a walk. The meadows become more artistic when the sun first shines on them.
You will find dense forest, meadows, and flowing streams on the trail that runs from Dayara to Litham. There are several streams that you can use to refill your water bottles along the trail. You can see the Dhauladhars snow-capped mountains before you reach the Litham campsite. The forest of Bhoj is a stunning setting. You can see Litham from here. You will arrive at the Litham campsite after crossing the Chandranahan stream. Here you will spend the night.
Day 4 - Visit to Chandranahan Lake for acclimatization
Altitude:- 4,200m/13.800ft
Trekking: – 3km (each way), 6-7 Hours
Grade:- Difficulty, Steep ascents and descents
Start your day early
Water sources are available along the route
Small glacial Tarn
Chandranahan is a group consisting of 7 lakes
Up to 3 lakes can be viewed
Hot lunch on the camp site
Today's ascent and descent is steep so we will start our day early. After breakfast, we will visit the Chandranahan lake to do an acclimatization walk. Then we will return to Litham campsite. This is an exciting, rewarding walk that will allow you to take many pictures. From the point where it emerges, we will continue our climb upstream to the waterfall.
In June, you will also see a lot of snow. The lake will appear smaller as it is fed by the surrounding snowfields. Before heading back to Litham, you can spend some time at the lake taking pictures and enjoying the stunning views. You will have to descend steeply to Litham so you can reach Litham before lunch.
Day 05 - Litham to Dhunda
Altitude:- 4,000m/13.100ft
Trekking: 4 km, 5-6 hours
Grade:- Moderate. Mixture of steep ascent & gradual.
Water sources:- Streams running along the trail
The Pass can be seen from the Camp Site
The shepherds mark the trail well
Hot lunch on the camp site
To reach Dhunda, you will need to climb 2 hours. Dhunda is located at 13,300 feet. From here, Gunas pass sits on top of the snowy mountains. The combination of grey and white mountains, with Litham's grassland to the left and Rupin Valley to the right, makes it a mixture of both. The steep ascent will give you the first glimpse of Buran Ghati on your left. You can take some amazing pictures by spending some time at this spot.
The climb to Dhuna will be started by following the shepherd trail to the pass. You can see the Buran Ghati trail from here. The snow-capped mountains will surround you from all sides, so you will be camping in the middle of them. The entire campsite at Dhunda is a beautiful spot to camp in the alpine mountain ranges.
Day 06 - Dhunda To Munirang (River camp), via Buran Ghati pass
Altitude:- 3,600m/11.800ft via 4,550m/15,000ft
Trekking: 7km 10-11 Hours
Grade:- Difficulty, Steep ascents and descents
Bring at least 2 litres water with you to the campsite
Both ascent and descent are technical. Always be with Trek leader or other support staff.
The other side of the valley is filled with junipers, crested shrubs and more
Camp close to the farmer's hut and river
Lunch on the road, snacks on camp site
Today's trek will take us approximately 10-11 hours. It will include both ascent and descent. The snow melts in September and the climb to the pass is easy. Follow the ridge from the Dhunda campsite and climb over boulders to reach the base of this pass. It takes about an hour to climb up from the base, mostly on snow. Buran Ghati is at 15,000 feet. It's a thrilling climb. The top is narrow and has a narrow ledge. The steep drop to the opposite side is very sharp. Even with an ice-axe, the descent can prove dangerous without a rope. Your first goal is to get down to the snowfield 100m below the pass. The rest of the descents will be on smaller ledges you can slide down.
You will reach the base by following the ridge that runs along the pass. The climb to the top of this pass, at 15,000 feet elevation, will take about an hour. There is a narrow ledge at the top and a steep drop on either side.
Day 07 - Munirang (River camp), to Barua village. Drive to Shimla
Altitude:- 2,000m/6.600ft
Trekking: 4-5 hours, 5km
Grade:- Easy, gradual decline
There are only 3 water sources along the route. Carry 2 litres of water.
The trail is well-marked
Cross through mixed forests
Reach Barua village before 12:00pm
Lunch at Barua village on the way to Shimla (not part of the price)
Barua to Shimla at 1:00 PM (transportation is included in the price)
Shimla can be reached between 10:00 and 11:00 PM (please book your hotel at Shimla accordingly).
The last day of your trek will take you to Barua village, which is famous for its lush vegetation. This trail is beautiful and perfect for shutterbugs. It is amazing to witness the beauty of this trek while you descend. You will find a mixture of trees around the trail as you travel through high-altitude pines.
You will reach a large stream that joins the Barua Khud after about an hour of descent. You'll see a lot more shrubs as you cross the stream. Along the way, you might also spot peach and apricot trees. After about an hour, you will be greeted with apple orchards. You'll also see signs of cultivation. The descent becomes faster once you reach the village. The road bridge will be reached in half an hour. You will be picked up at Shimla by 1:00 PM. We expect you to reach Shimla between 10:00 and 11:00 PM. Please book your hotel at Shimla according.
Day 1 - Shimla to Janglik
Day 02 - Janglik to Dayara Thatch
Day 03 - Dayara Thatch to Litham
Day 4 - Visit to Chandranahan Lake for acclimatization
Day 05 - Litham to Dhunda
Day 06 - Dhunda To Munirang (River camp), via Buran Ghati pass
Day 07 - Munirang (River camp), to Barua village. Drive to Shimla
To Book Please Click On Date Below
[trustindex data-widget-id=c9f32157533f598877572ef987]
Below is the route map of trek, we have mentioned below is the safest route. This route is from sankari side.
We are delighted to welcome you on the Buran ghati pass trek. It is a great buffet of some of our most popular treks. It is an amazing trek, but you must make sure your travel plans are in order.
1. Here are some tips to help you plan your trip.
Day zero (the day before Trek Day 1): Book your Flight to Chandigarh and Delhi.Take a bus from Chandigarh to shimla, if you are in Chandigarh. Book an overnight bus from Delhi to Shimla
Day 1 – Shimla – Janglik by Drive. Shimla is approximately 8-9 hours away. Janglik is your basecamp.
Transport is organized from the old shimla bus stand in Shimla at 6.00 am. Janglik transport costs Rs 7,500 per vehicle (shared among 5-6 trekkers).
Day 2 – Day 6Hike the Buran Ghati Trail
Day 7 – Drive to Shimla. After a day of trekking, start driving to Shimla in the afternoon. It takes approximately 8-9 hours to drive from Barua towards Shimla. Shima is expected to arrive between 10 and 11 pm. You should ensure that you have booked your hotel accommodation in Shimla.
Day 8 – Book Return Fllight / train
Fly to Chandigarh and Delhi. Book plane tickets from Delhi to your home town on Day 8
Our Recommendation:
1. We recommend that you travel to Shimla a day early and stay nearby of new bus stand Shimla. You can rest well at Shimla for the night. You can also enjoy some sightseeing bonus.
2. Your trek will end at Barua on your return. Barua, a small village, doesn't have public transport. Again, we arrange transport to return to Shimla. Shimla can be reached between 10.00 and 11.00 p.m.
Mode Of Transportation
By Air:-
The Jubbarhatti Airport is located 22 kilometers from Shimla. It has excellent connections to other cities via air. You can also access other nearby airports like Chandigarh Airport or Delhi Airport.
By rail :-
By Rail Kalka is the nearest station and connects the city to different parts of the country via rail. You can get trains from cities such as Delhi and Calcutta. You can also take the toy train from Kalka station. Or hire private taxis to explore the beautiful city of Kalka.
By Road:-
By roads, Shimla can be connected to cities such as Chandigarh and Delhi, Dehradun, Kalka, and Dehradun. To reach the hill station, you can hire taxis or state buses. Regular bus services are available from nearby cities like Kullu (235km), Manali (228 km), Delhi (390 km), Ambala (154 km) and Delhi (390 km). Luxury buses and cabs can be taken from the capital of India for a comfortable ride.
TrekupIndia will arrange Bulero and similar vehicles will pick you up from Shimla New Bus Stand, at 6.30 A.M.
Janglik will be reached by 4:30 P.M.
The trek price does not include food during travell from Shimla to Janglik and return.
Things To Carry for the Buran Ghati Trek?
Buran Ghati Trek is an high altitude trek. The trekking gear you have to have for this particular trek differs from normal treks. Thus read this whole segment.
Trek Essentials: You can't do the trek without these.
1. Trekking Shoes
Buran Ghati needs sturdy trekking shoes that can withstand snow and have good grip.
Rental: We have the decathlons proper Quechua trekking shoes for rent Rent trekking shoes Here.
2. Backpack
A backpack 50-60 litres is required for a trek such as Buran Ghati. Your backpack should have good hip support, shoulder support, and pockets should be accessiable quickly .
Rental: Rent your backpack from TrekupIndia Store, If you do not have a Backpack , Rent it right here.
3. Clothing
Layering is the best way to protect yourself in the mountains. Layers provide maximum protection against all the elements. Layers are also great for protecting against the elements, especially when it changes rapidly in the mountains.
Base Layer: 3 – T-shirts
Carry 2 T-shirt, and wear 1. Wear full-sleeve, dry-fit T-shirts, preferably with collars. These will protect your neck and arms from sunburn. UV radiations can quickly burn you, especially in the high altitudes of the trek.
Dry-fit T-shirts dry quickly, dry quickly, and are quick drying in the event of rain. Collared T-shirts work better than those with rounded necks.
Cotton or Synthetic?
We Indians love cotton. It makes sense to wear cotton down in the plains, where the heat can reach 40 degrees Celsius. It takes a while to dry once it is wet. Synthetic is the best choice for mountains where temperatures are cooler. They are quick to wick sweat and dry quickly. They can smell fast so make sure to have a roll-on deodorant.
Expert Tip:
If you're more prone to colds, you can carry a pair of thermal inners. From the past experiences of ours, using 2 T shirts over other helps to prevent from cold.
From Where To Buy:Buy from Decathlon.
5. Insulation Layers in Winter.
The Buran Ghati Trek can be done in winter. You will need at minimum 5 layers of warm clothing if you are going between December and March.
You will require1 – inner thermals, 2 – light fleece, 1 – light sweater, and 1 padded jacket. Don't buy your grandma's sweaters. They can be very heavy. You want fleece jackets and sweaters that fold easily.
A padded jacket is the best choice for your outer layer. Water resistant materials are not necessary. You do need an outer jacket with a padded lining that keeps out the cold and wind. Make sure your padded jacket includes a hood.
Rental: we have a 3 in 1 trekking jacket which have all these protection, check out at TrekupIndia shop.Rent 3-IN-1 trekking jacket here.…
6. Two – Trek Pants
This trek requires at least one pair of trekking pants and a maximum of two. One pair of pants should be worn and one additional for when it rains/snows. Trek pants with zip-off thighs at the thighs make them ideal for trekking. You should also choose quick-drying pants over cotton. Even in colder climates, they dry quickly.
TRack pants or trekking pants?Track pants can be used as a backup or double as thermal bottoms. Track pants aren't trek pants so they shouldn't be your main outerwear. They should be used as an emergency backup.
Compalsoury Accessories, without these you will not be equipped to perform the trek or not able to do Trek
These accessories are necessary to carry. These accessories are mandatory for anyone who travels to Buran Ghati. Trekkers tend to delay borrowing or purchasing accessories. We recommend the opposite. These accessories should be gathered first.
1. Sunglasses.
Sunglasses are required to prevent snowblindness. Expect to be walking on snowy stretches during a winter trek such as Buran Ghati. Snow blindness can be caused by a small amount of direct sunlight (around a half-hour's exposure). Because fallen snow acts like thousands upon thousands of mirrors, reflecting direct UV rays. You will need sunglasses that provide UV protection.
If the trekking day is sunny and bright (on meadows, open sections), you should wear sunglasses. You must not remove your sunglasses from a snowy section until it is fully crossed.
In case you use spectacles: You can buy oversized sunglasses for your glasses, which you can wear over your regular glasses (buy at Decathlon). Photochromic lenses are also available if you find this cumbersome.
Contact lens users: Contact lenses can be worn on the trek if you have them. The lens solution won't freeze. It will not be a problem to change your lens inside your tent. You will only need enough cleaning solution to clean your fingers. Your contact lenses can be covered with sunglasses.
2. Suncap.
Suncaps are mandatory. A sun cap is mandatory for trekking. It can cause headaches, sunstrokes, rapid dehydration, and a drop in performance.
Important Information: The Golden rule of the mountains is to always cover your head. A sun cap is a protective layer that protects you from the sun's harsh rays during the day. It also works well with naked UV rays. Sun caps keep your body's temperature in check. The reverse is true in the morning/evening. Your head quickly loses body heat. The woolen cap stops heat from escaping your head.
3.Hand Gloves.
You will be handling snow quite a lot on a trek like Buran Ghati. To grip things or hold onto snow, gloves are essential. The gloves should also keep you warm. You should get synthetic gloves with waterproofing on the exterior and a padded interior. Wear a tight-fitting fleece glove in your synthetic hand glove if you have difficulty obtaining the combination (not likely). This trek requires hand gloves.
Rent Hand Gloves right here.…
4. Woollen Cap or Balaclava.
These should cover your head. You lose the most heat in the cold mountains from your head and not your hands, feet, or other parts of your body. Protecting your head is important, especially in the evenings when the sun sets. Your woollen cap should be worn at all times, including early mornings and late evenings.
A woollen cap that covers your ears can protect your sensitive ears. Balaclavas are a modernized version of the woolen cap. The balaclava covers your ears, neck, and other parts of your face. A woolen cap that covers only your head will not be sufficient, such as a woolen cap, will require a neck warmer or scarf.
Buy Wollen Cap right here….
5. Socks (3 sets).
You should also have three to four pairs each of socks for sports. You get warmth and cushioning from sports socks. The mantra here is to wear synthetic socks, or at the very least a synthetic blend. Cotton socks absorb sweat and water. These socks are difficult to dry.
Woollen socks are warm and cozy in the winter. Two sports socks are sufficient if you can't get woolen socks.
Buy Wollen Socks here
6. Head Torch / Head Lamp
Many trekkers don't know if they should get a torch or a headlamp. A headlamp is essential because it allows you to use your hands for other activities. You'll need to use your hands for the Buran Ghati Trek, including washing dishes, setting up tents, and holding your trekking poles.
Rental: Headlamps are offered on the TrekupIndia shop. Rent it here.…
7. Trekking Pole / Trekking Stick
You can balance and stability with trekking poles. You can reduce your energy use by up to 40%. There are steep ascents, and descents on the Buran Ghati Trek. A pair of trekking sticks can make the difference between a pleasant and strenuous trek. India uses a single trekking stick. Two trekking poles will give you more stability and balance. You can also walk faster with them.
Rent trekking pole TrekupIndia shop….Rent it right here.…
8. Rainwear.
Weather can quickly change on a trek. In a matter of seconds, a bright sunny day can quickly turn into a torrential downpour. To combat this, you will need a poncho and a rain jacket. A poncho, a large rain cover that covers your arms and heads, is what you need. Because it covers you and part of your backpack, it is very effective. It is very light and weighs almost nothing.
Rental: High-quality pancho rent on the TrekupIndia shop…Rent it right here.…
9. Rain cover for your Backpack .
Backpacks can save your life. Your backpack will hold all of your dry clothes and warm gear. Your backpack should be kept dry at all times. Most backpacks have rain-covers built in. If your backpack does not come with a rain-cover, you can either buy one or make a large sheet of plastic to fit the dimensions of your backpack. The plastic sheet can be wrapped around the backpack and held in place by a string or elastic.
10. Daypack (20-30 ltrs, optional).
Some trekkers choose to load their bags onto a mule or potores while on the Buran Ghati Trek. Although we don't encourage it, if you do choose to offload, then a daypack is required. You will need to carry water bottles, rainwear and emergency medicines. The campsites are the only place you can find your main backpack, which contains most of your equipment.
One day backpack is a small version of backpack which is generally of 20 – 30 ltr capability.
Additional necessary Trek Essentials
1. A toilet kit.
Try keeping the toilet kit light. Have only the basic things– toothbrush, a roll on deodorant, lip balm, a little moisturiser, toilet roll, tiny detergent along with toothpaste. You will not able to bath on the trek, therefore do not overload on shampoos and soaps.
Quick Information: Carry miniature sized products. You won't have greater than that. When you are travelling in a team, share 1 toothpaste for all.
Stay away from getting big toilet rolls. Probably The smallest size roll is much more than sufficient for a trek as Buran Ghati Trek.
For females: If you're more likely to have the Periodes of yours on the trek day of yours, do not care about it. You are able to utilize the pads of yours, tampons or maybe menstrual cups on the trek. There'll be toilet tents in which you are able to change. Be sure you have ziplock bags to take back the menstrual waste of yours. Do not leave behind any misuse in the mountains
2. Cutlery:
Will be provided by us like your plates and mugs etc.
3. Two one litre plastic bottles or even a two litre hydration pack:
Buran Ghati Trek has many hiking days. You have to take two 1 litre water plastic bottles to help keep yourself hydrated. Carry light-weight thermos, it will help to assists you to save water that is warm on an extremely cool morning or even for late nights.
4. Presonal medi kit
Carry the medications with you, readily available at most occasions. Do not take any kind of medication unless you have consulted your trek leader.
1. Dolo 650 (5 tablet computers): This is paracetamol. It assists to take on high temperature, slight discomfort.
2. Avomine (4 tablet computers): Carry this specifically if you are prone to nausea. Pop one fifty per cent hr before the beginning of your roadway trek.
3.Combiflam (5 tablets): if you have pain in your legs, it will help you to get instant relief from pain. It also contains paracetamol.
4.Digene:If you think your food is undigested then you can take this med. Aslo tell your trek leader about it.
5.ORS (6 packs): Consume a pack of ORS water at least once a day, usually mid-day when you are in the middle of your trek.
6. Knee Brace (optional): Carry this if you are prone to knee injury or have recognized problems of knee discomfort.
Our trek leaders bring a high Altitude medical set with them which likewise contain Life-Saving Drugs, in emergency situations TrekupIndia Trek Leaders will handel the situation as our trek leaders are well trained for mountains. Before taking these medicines by yourself first tell your trek leaders about it.
Compulsory Documents to Carry.
These are files needed to be submitted at Forest Department before ypur trek. With no of these, you will not be permitted to trek .
Original and photocopy of government photo identity card. Carry Id's like adhaar, voter id, etc.
Food Provided by Us During the Buran Ghati Pass Trek
We provide only Indian vegetarian food and mainly your meal is going to contain Indian bread, vegetable, lentils and Rice along with delicious dessert. During your trek, we will serve three meals a day including breakfast, lunch, and dinner .
In the evening, you will also be served tea & snacks and lip-smacking soup before dinner. If it will be a long day of trekking, you will be given a packed snack.
After doing a lot of research on the nutritional requirements for the trekkers, we prepare the menu. Before putting all the meals together, we also consider altitude gained and weather.
The meal served by us while trek is perfectly balanced with the right amounts of calories, carbohydrates, vitamins, protein, fiber, and minerals. You need to know that all our cooks have great expertise in cooking and have undergone thorough training. So, get ready to enjoy delectable and lip-smacking dishes during your trek.
You will be served with lemon tea in the tent in order to start your day with a refreshed feeling. Before leaving the campsite for trekking, you will be given a hot finger-licking breakfast like upma, Aallu Prantha, Besan Chilla, Poha, Daliya,  Corn flakes, Maggie, along with tea or coffee.
In case, your trek will be longer one then we also offer some fresh local fruits such as apples and even healthy drinks like Frootie or Maaza. In the afternoon, you will be served simple & healthy lunch, while at around 04:00 pm, you will be given tea and a light evening breakfast.
After you reach your campsite at night, you will be served a hot and delightful dinner. After reading this, you must have got the idea about the food provided by us on trek, you don't need to worry about food. Many trekkers trek with us again and again because of the food we provide. Thus, we will definitely give you unforgettable experiences.
Safety During Buran Ghati Pass Trek
Trekking with us for Buran Ghati is completely safe because we have a team of trek leaders who are qualified in Wilderness first-aid and also have complete information about the high-altitude glitches.
During Trek, we carry a complete first-aid kit that contains all the important medicines. Before trekking with us, you need to ensure that you are medically fit for the trek and if you are able to judge yourself then it is better to take advice from a professional.
For us, your medical fitness is very important than anything else.
Know About Us:- You need to know that our company TrekUp India has been in the field of Adventure Tourism for the last 23 years. Right from our inception, we have been involved in providing treks, voyage & hiking programs as well as high altitude expedition rafting.
We keep on organizing treks in Uttarakhand and Himachal, while being a part of the trekking community, we feature more than 75 Himalayan documented treks. Apart from other outdoor activities, our company also organizes trips for schools, colleges, and family.
We ensure complete technical safety in the mountain
Our company has a vast team of more than 100 guides, as well as trainers in order, serve in the mountain treks.
One of the best things about our team is that all the members are trained professionally from Nehru Institute of Mountaineering, Indian mountaineering foundation Delhi as well as Hanifle Center Outdoor Education Mussoorie.
Therefore, we never believe in compromising on the quality as well as services offered to our valuable customers.
For Us, Your Safety Is the Top Urgency
At Trekup India, you will find a team with local knowledge and fluency in English as well as Hindi. This helps in ensuring that you have an amazing trek and not only this, we also pay attention to your health as well as safety because this is something we cannot ignore.
All the team leaders involved in trekking have already undergone several professional courses in First Aid, Portable Altitude Chamber Training, CPR, Environmental Awareness Training as well as Advanced Wilderness Emergency Medicine.
We also carry a complete first aid medical kit not only on the trek but on each and every trip which is organized by us. Apart from the medical kit, we carry a portable altitude chamber and medical oxygen for all kinds of high-altitude treks .
Our company has great expertise in organizing all sorts of group adventure holidays for family groups, school & college groups as well as friend groups. When it comes to travel options, we have a wide range that suits different fitness levels as well as traveling styles.
Therefore, no matter who big the group size, we pay personal attention to each and every member present in the group.
How We Ensure That Your Trek Is Safe with Us
Right from our establishment, we at TrekUp India, are continuously involved in introducing new safety practices into Indian trekking in order to ensure the safety of voyagers.
For walking on snow, TrekUp India introduced Microspikes and also made emergency bottled oxygen mandatory for all kinds of treks.
In order to test pulse as well as oxygen saturation levels, pulse oxymeters are used. As a safety communication device, we at TrekupIndia introduced radio.
Though we have noticed that most of the organizations organizing treks do not follow these systems but with time several competing companies are adopting these practices and organizing great and safe treks.
Explore our New Safety Protocols
In order to ensure a perfect Trek, we have introduced some new safety checks that will assure more safety for our trekkers. Our On-trek safety checks include:
Daily oxygen saturation along with pulse readings
Stretchers team appointed on every trek
Radios
Trained mountain staff and full safety
Additional oxygen cylinders
Special medical kit for high altitude treks
Microspikes on all types of snow treks
Experienced Trek leaders as well as safety
Technical team on all snowy slopes
Other Treks Like Kedarkantha
Ad alias architecto consequuntur, dolorum expedita illum itaque labore libero minima minus mollitia officiis saepe sunt suscipit tempora tenetur ullam veritatis voluptate